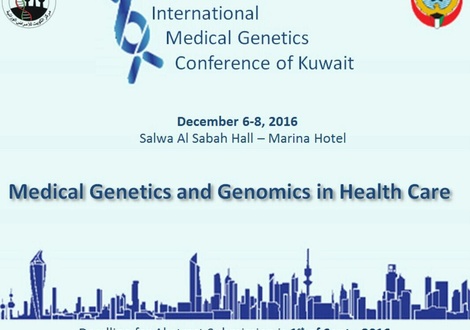 2016 conferance
Announcing The sixth international medical genetics conference in Kuwait from 6-8.12.2016
Speakers:
1- ROB TAYLOR

Wellcome Trust Centre for Mitochondrial Research, Institute of Neuroscience, The Medical School, Newcastle University, Framlington Place, Newcastle upon Tyne, NE2 4HH, UK
Biography
Rob Taylor obtained his first degree in Biochemistry and his PhD in Molecular Genetics from Newcastle University where he was appointed as a Lecturer in 2001. He is currently Professor of Mitochondrial Pathology at the Wellcome Trust Centre for Mitochondrial Research in Newcastle and an Honorary Consultant Clinical Scientist with the Newcastle upon Tyne Hospitals NHS Foundation Trust, leading the NHS Highly Specialised Mitochondrial Laboratory which provides a UK-wide diagnostic service for patients with mitochondrial disease. His research laboratory focuses on the biochemical and molecular genetic investigation of human mitochondrial disorders, with interests ranging from determining the molecular mechanisms by which inherited mitochondrial genetic abnormalities cause cellular dysfunction and identifying new genes associated with both paediatric-onset and adult-onset mitochondrial disease presentations to the development of techniques to prevent the transmission of serious mitochondrial disease.
2- Prof. Anver Kuliev, MD, PhD
Reproductive Genetic Innovations, 2910 MacArthur Blvd, Chicago, IL 60062
Short Biography
Prof. Anver Kuliev, MD, PhD, received his PhD in Clinical Cytogenetics in 1969 and Doctorate in Medical Genetics in 1977. In 1979 he took the responsibility for the World Health Organization's Hereditary Diseases Program in Geneva, where he developed the community-based programs for prevention of genetic disorders, early approaches for prenatal diagnosis (CVS) and genetic risk approach to coronary heart disease. He moved to Chicago-based Reproductive Genetics Institute (Reproductive Genetic Innovations) in 1990, where he heads scientific research in prenatal and preimplantation genetics. Currently he is also Clinical Professor of Florida International University. Dr. Kuliev is an author on over 200 papers, including 15 books in the above areas, with 7 in the field of Preimplantation Genetics.
3- Prof. Hanns Lochmüller, MD, FAAN
Name:

Degree(s):

Institution: Department:

Position:

Address:

Phone:

E-mail:

Website:

Hanns Lochmüller, MD, FAAN

MD (1991)

Newcastle University

John Walton Muscular Dystrophy Research Centre, Institute of Genetic Medicine

Chair of Experimental Myology

Deputy Director, Institute of Genetic Medicine

Central Parkway

Newcastle upon Tyne, NE1 3BZ, UK

++44-191-2418602

hanns.lochmuller@ncl.ac.uk

http://rd-connect.eu/
Biosketch
I have a long-standing interest in the molecular genetics of the inherited myopathies and neuromuscular junction disorders, and my research focuses on the further study of animal models of these disorders as a means to understand their pathophysiology, as well as to develop the means to monitor disease progression and therapeutic interventions. My research encompasses multiple model systems such as zebrafish and mouse in vivo models, cell culture models and clinical studies involving patients.
Recent research successes include identifying novel genes for congenital myasthenic syndromes (Senderek et al., 2011; Beeson et al., 2006), developing methods for iPSC cell generation (Dick et al., 2010) and viral vector testing (Jorgensen et al., 2009), and evaluating the effects of potential therapies in vivo (Jorgensen et al., 2011). This has enabled me to secure several prestigious grants including three MRC project grants (one as principal applicant), charitable funding such as AFM and Lundbeck Foundation grants and significant EU funding for networking activities such as TREAT-NMD, BIO-NMD and CARE-NMD.
Recent examples of our translational activities include clinical trials of anti-sense oligonucleotides to induce exon skipping in DMD (as part of the MDEX consortium in collaboration with AVI and also working with Prosensa/GSK). I am the local PI for a multi-centre clinical trial of Olesoxime in SMA (in collaboration with Trophos). We are also involved in a long term study of steroid efficacy in DMD funded by NIH. This is in addition to the enabling activities of TREAT-NMD, BIO-NMD, CNMD and EuroBioBank which provide infrastructure (patient registries, BioBanks and materials) to the wider community. These activities continue to contribute to the global translational effort in neuromuscular diseases and have made possible a large number of trials in the UK and abroad. In addition, the model provided by TREAT-NMD is being adopted as an exemplar for the organization of translational activities in rare disorders in general.
4- Dr Robert McFarland
Name:

Dr Robert McFarland

Position:

Clinical Senior Lecturer and Consultant Paediatric Neurologist

Wellcome Trust Centre for Mitochondrial Research

Newcastle University

Education / training

Institute and location

Degree (if applicable)

Year(s)

Field of study

Oxford University

BA(Hons)

1990

Physiological Sciences

University of London

MBBS

1993

Clinical Medicine

Royal College of Physicians

MRCP(UK)

1996

Paediatrics

Royal College of Paediatrics & Child Health

MRCPCH

1997

Paediatrics

Newcastle University

Wellcome Trust Clinical Training PhD Fellowship

2000-2003

Mitochondrial disease

Newcastle University

MRC Clinician Scientist Fellowship

2003-2008

Mitochondrial disease

Newcastle University

DoH/HEFCE Clinical Senior Lectureship

2008-2013

Paediatric Mitochondrial Disease
Summary
Robert McFarland trained in paediatrics and paediatric neurology in London and Newcastle upon Tyne. He began his research career studying the molecular consequences and associated clinical phenotypes of mitochondrial tRNA point mutations. Since then his research has included the identification of mitochondrial and nuclear gene defects causing disease in children, factors determining pathogenicity of mitochondrial DNA mutations and clinical research. The latter has specifically involved the development of clinical assessment tools (NMDAS and NPMDS), drug trials and more recently, bringing together a living cohort of 1000 individuals with confirmed mitochondrial disease. Currently he is a Clinical Senior Lecturer in Paediatric Neurology in the Wellcome Trust Centre for Mitochondrial Research Newcastle University, UK.
Experience
Positions and employment
2008 – Present: Clinical Senior Lecturer, Newcastle University & NUTH NHS Foundation Trust
2007 – Present: Paediatric neurology lead for the nationally commissioned "Rare Mitochondrial Disease Service for Adults and Children"
2015 – Present: Head of Dept. of Paediatric Neurology, Great North Children's Hospital
2011 – Present: Northern Deanery Advisor for British Paediatric Neurology Association
2003 – 08: MRC Clinician Scientist Fellow, Newcastle University & NUTH NHS Trust
Other experience and professional membership
Chief Investigator on the Medical Research Council Mitochondrial Disease Patient Cohort (UK), a national project that is facilitating natural history studies and clinical trials in mitochondrial disease patients.
Principal Investigator Wellcome Trust Centre fro Mitochondrial Research
Principal Investigator in the MRC Centre for Neuromuscular Diseases
Supervisor for 9 PhD students (4 of whom have successfully completed) and 2 MRes students
My research interests include the genetic aetiology and molecular pathology of mitochondrial disease in children; determinants of pathogenicity and transmission of mitochondrial DNA mutations;
clinical trials of exercise and drug treatment; and the clinical characterization of phenotypes associated with mitochondrial disease.
2. Top 10 recent publications
Metodiev MD, Thompson K, Alston CL, Morris AA, He L, Assouline Z, Rio M, Bahi-Buisson N, Pyle A, Griffin H, Siira S, Filipovska A, Munnich A, Chinnery PF, McFarland R, Rötig A, Taylor RW. Recessive Mutations in TRMT10C Cause Defects in Mitochondrial RNA Processing and Multiple Respiratory Chain Deficiencies. Am J Hum Genet. 2016 May 5;98(5):993-1000.
Oláhová M, Hardy SA, Hall J, Yarham JW, Haack TB, Wilson WC, Alston CL, He L, Aznauryan E, Brown RM, Brown GK, Morris AA, Mundy H, Broomfield A, Barbosa IA, Simpson MA, Deshpande C, Moeslinger D, Koch J, Stettner GM, Bonnen PE, Prokisch H, Lightowlers RN, McFarland R, Chrzanowska-Lightowlers ZM, Taylor RW. LRPPRC mutations cause early-onset multisystem mitochondrial disease outside of the French-Canadian population. Brain. 2015 Dec;138(Pt 12):3503-19.
Gorman GS, Schaefer AM, Ng Y, Gomez N, Blakely EL, Alston CL, Feeney C, Horvath R, Yu-Wai-Man P, Chinnery PF, Taylor RW, Turnbull DM, McFarland R. Prevalence of nuclear and mtDNA mutations related to adult mitochondrial disease. Ann. Neurol. 2015;77:753-759.
Besse A, Wu P, Bruni F, Donti T, Graham BH, Craigen WJ, McFarland R, Moretti P, Lalani S, Scott KL, Taylor RW, Bonnen PE. The GABA Transaminase, ABAT, Is Essential for Mitochondrial Nucleoside Metabolism. Cell Metab. 2015;21:417-427.
Gorman GS, Grady JP, Ng Y, Schaefer AM, McNally RJ, Chinnery PF, Yu-Wai-Man P, Herbert M, Taylor RW, McFarland R, Turnbull DM. Mitochondrial Donation - How Many Women Could Benefit? N. Engl. J. Med. 2015;372:885-887.
Nesbitt V, Alston CL, Blakely EL, Fratter C, Feeney CL, Poulton J, Brown GK, Turnbull DM, Taylor RW, McFarland R. A national perspective on prenatal testing for mitochondrial disease. Eur. J. Hum. Genet. 2014;22:1255-1259.
Taylor RW, Pyle A, Griffin H, Blakely EL, Duff J, He L, Smertenko T, Alston CL, Neeve VC, Best A, Yarham JW, Kirschner J, Schara U, Talim B, Topaloglu H, Baric I, Holinski-Feder E, Abicht A, Czermin B, Kleinle S, Morris AA, Vassallo G, Gorman GS, Ramesh V, Turnbull DM, Santibanez-Koref M, McFarland R, Horvath R, Chinnery PF. Use of whole-exome sequencing to determine the genetic basis of multiple mitochondrial respiratory chain complex deficiencies. JAMA 2014;312:68-77.
Grady JP, Campbell G, Ratnaike T, Blakely EL, Falkous G, Nesbitt V, Schaefer AM, McNally RJ, Gorman GS, Taylor RW, Turnbull DM, McFarland R. Disease progression in patients with single, large-scale mitochondrial DNA deletions. Brain 2014;137:323-334.
Bonnen PE, Yarham JW, Besse A, Wu P, Faqeih EA, Al-Asmari AM, Saleh MA, Eyaid W, Hadeel A, He L, Smith F, Yau S, Simcox EM, Miwa S, Donti T, Abu-Amero KK, Wong LJ, Craigen WJ, Graham BH, Scott KL, McFarland R, Taylor RW. Mutations in FBXL4 Cause mitochondrial encephalopathy and a disorder of mitochondrial DNA maintenance. Am. J. Hum. Genet. 2013;93:471-481.
Pfeffer G, Horvath R, Klopstock T, Mootha VK, Suomalainen A, Koene S, Hirano M, Zeviani M, Bindoff LA, Yu-Wai-Man P, Hanna M, Carelli V, McFarland R, Majamaa K, Turnbull DM, Smeitink J, Chinnery PF. New treatments for mitochondrial disease – no time to drop our standards. Nat. Rev. Neurol. 2013;9:474-481.
3. Research support
Current Grant Income:
2016 – 2019 Lily Foundation PhD studentship (£71K, Co-PI with Taylor)
2015 – 2016 MRC Confidence in Concept "Mechanistic evaluation of stroke and mitochondrial dysfunction" (£67K, Co-PI with Gorman)
2014 – 2017 Wellcome Trust – Public Engagement Award (£287K, Co-PI with Turnbull)
2014 – 2017 Ryan Stanford Appeal PhD Studentship "Fight Alpers" (£40K, Co-PI with Taylor)
2014 – 2016 Lily Foundation Award, "Improving the molecular genetic diagnosis of mitochondrial disease" (£64K, Co-PI with Taylor)
2013 – 2018 The MRC Centre for Neuromuscular Diseases (UCLH and Newcastle) – renewal (£3.1M total funding to UCLH and Newcastle centres, Co-PI)
2013 – 2015 The Lily Foundation Award, (£100K, Co-PI with Turnbull and Taylor)